As i said in my post from
yesterday
, i have been trying to learn more about my beautiful digital SLR camera. So after watching 12 of
R J Bradbury'
s video tutorials, i decided i would try and take some good pictures on my recently cleaned lounge room.
This house is quiet a difficult house to take photos in as most rooms only have one window, as we are semi attached to the house next door. So getting the lighting to look nice has always been my challenge in photographing the lounge room.
So armed with some new digital SLR knowledge, i played around with the settings and came up with these pictures.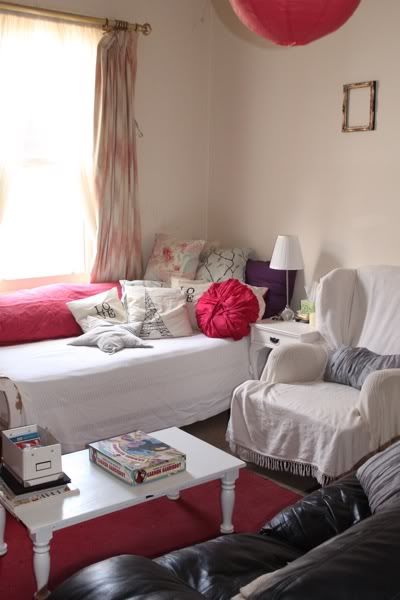 This is the view you get when you enter the lounge room from the hall wall and look to the left.
Here is a list of where the things in the room came from:
Curtains: Already here when we moved it.
Paint Colour: As i said renters.
Day Bed:
Was given to use by L's aunty, affectionally known as Buzzy but properly known as
Heather Nette King
.
Mattress for the Day: Nicked off my Mum & Dad (They have a lot of spare single mattresses from hosting my nieces and nephew, and friends of my brother and mine, when we were younger).
Blanket covering Day Bed: I found this at an Op Shop. I wouldn't have paid more than $2 for it.
Long pink thing on the back of the Day Bed: This is two body pillows bought at Costco for $22 each, covered in blue covers from Kmart (Maybe $4 each), wrapped in a pink blanket from Ikea that i got years ago.
Star cushion: Gift from my Aunty Nicky from the UK many years ago.
Purple Pillow: x2 European pillows, an engagement present from our good friends Adam & Terry.
All other pillows on the Day Bed: Made by me!
Side Table: Got it at the Vinnies Op Shop in Oakleigh for i think $30.
Lamp: In the 'As Is' section of Ikea for $6.
Arm Chair: Found in council collection many years ago (Seriously needs recovering! Bday present anyone? hehe) covered in 2 blankets, one an op shop find of mine, the other found at an op shop by my Mother-in-Law.
Cushion on Arm Chair: From Kmart.
Rug: An unwanted rug from my In-Laws house.
Coffee Table: Found in council collection, and i painted it in Dulux White on White in Semi Glosss.
Couch: On Loan/Being stored by L's brother.
Frame on wall:
See this
post
from 2009 to see the what i did with the images that originally came in this set of 4 frames, that i got at the Ocean Grove Church fate for $10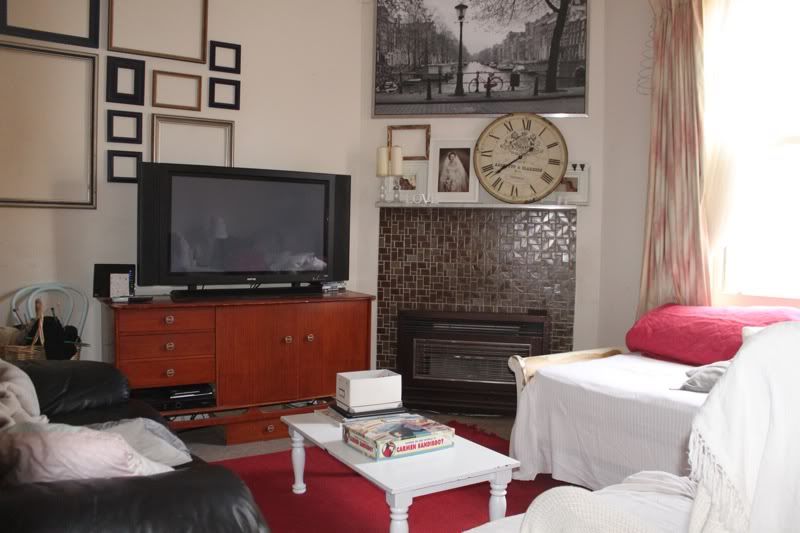 This is the view when you are standing in the doorway to the kitchen, facing to the right.
Bentwood Chair with Knitting Basket on it: I found the Bentwood chair in Blackburn's council collection last year, it had a very broken, wicker seat, so L cut me a piece of wood to fit and attached it with liquid nails. I painted it with a sample pot of Dulux's July Quarter. I love it.
And the basket that the knitting is in, i think was from an Op Shop.
TV Cabnet: Found in Council Collection (On the same 'Junking' mission as the Arm Chair was found) years ago. One day will need to be stripped down and refinished.
TV: From JB a couple of years ago for $800.
Frames on the wall:
See this
Post
and vote on weather you like this idea of not! I frames themselves are a collection of Op Shop and Council Collection finds, some painted in a dark blue acrylic paint.
Giant Picture above the Fireplace: This was from IKEA, i think it was only about $120.
Glass Candle sticks: From Kmart.
Candles: IKEA.
LOVE letters: Supply & Demand.
The two end frames: Salvo's Op Shop in Oakleigh.
Middle frame: IKEA (Picture is of my Grandmother).
Clock: Supply & Demand, a birthday present from my In-Laws.
Atrocious fireplace: Came free with the house. Is good at its job tho.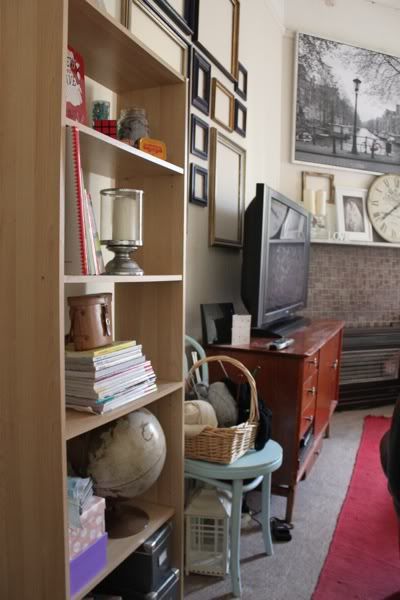 Shelves: 'Billy' from IKEA.
Globe: From Melbourne Map Center, as a 21st present for L.
Brown Leather Binocular Case & Binoculars: A 21st present for L, they were his grandfathers.
Hurricane Candle Holder: Kmart (Candle from IKEA).
So i guess this is just an example of what can be done, even if you are renting. I am constantly frustrated by not being able to do more with the house, ei rip out that ugly fireplace, paint the walls etc, but i know that one day, hopefully soon i will have my own house that i can completely make my own.